Regional Partnerships
Enabling joint working and closer contacts
Powers and budgets have been devolved in recent years to the British nations and to regional Combined Authorities in England. The BGA is supporting the development of strategic partnerships between British and German regions.
In 2021, the BGA initiated and supported the development of a wide-ranging strategic partnership between Greater Manchester (GM) in the UK and the Ruhr Metropole in Germany. Together with the British Consulate-General in Düsseldorf and the British Embassy in Berlin, we helped GM and the Ruhr agree a Memorandum of Understanding (MoU).
Metro Mayor Andy Burnham and GM's international leader Councillor Elise Wilson travelled to Essen in the Ruhr in September 2021 to sign the MoU.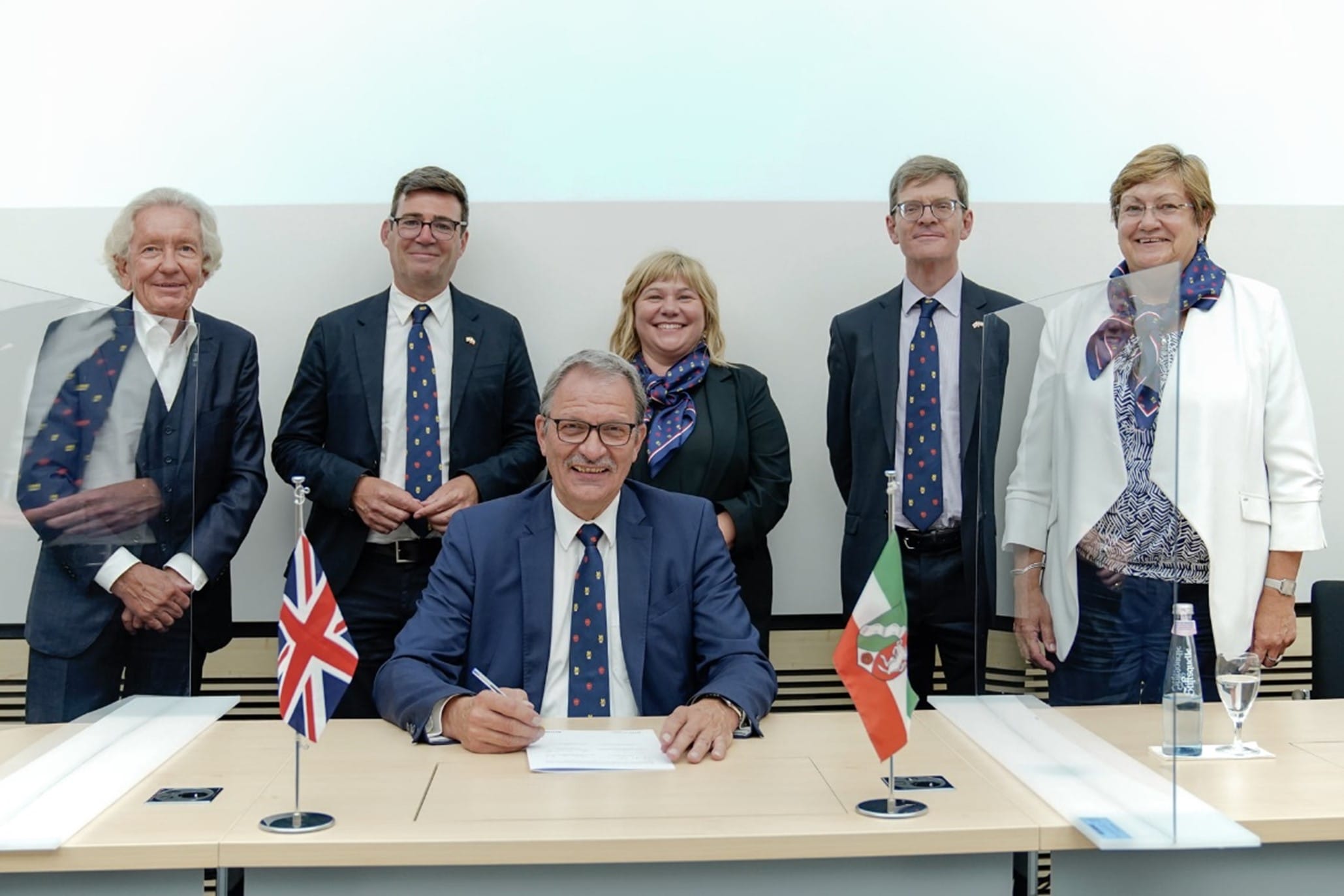 The Combined Authority of Greater Manchester (GM) and the Regional Association for the Ruhr (RVR) partnership is the first British-German strategic partnership at a regional level. It brings together traditional industrial regions of the two countries, comprising 94 towns and cities, a population of almost eight million and a combined GDP of £230 billion. The strategic partnership aims to broaden and intensify the political, business, educational and civic links between the two regions.
Since the signing of the MoU, the BGA and the Netzwerkstelle Städtepartnerschaften der Auslandsgesellschaft.de e.V. have led the work on the educational pillar by setting up five school partnerships between the two regions.
The GM-Ruhr agreement provides a possible model for future regional partnerships. Indeed, the BGA is working with other Combined Authorities to explore possibilities for further British-German regional partnerships.
Join us
Keen to debate contemporary UK-German issues? Interested in German history and culture? Or do you just want to meet like-minded people over beer and pretzels? In any of these cases, the BGA is for you. Join us now and become part of a dynamic and growing network of British-German relations enthusiasts.
Support us
The BGA is now playing a greater role in British-German relations than ever before. We receive no regular funding from any Government, and our income from individual membership fees covers less than a fifth of our running costs. So we are reliant on donors to continue and expand our work. Your support is hugely appreciated.